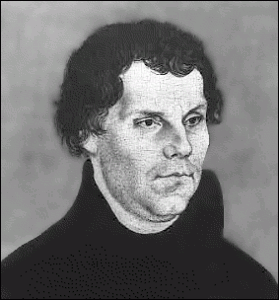 Martin Luther
Martin Luther-Who Stood Up When Church wasn't Teaching Scripture
Born 10 November 1483 – Went to Heaven 18 February 1546
Martin Luther was raised by a rich businessman that made his money from mining. He had always wanted Martin Luther to become a lawyer. when Luther was in law school he felt great promptings by the Holy Spirit. Than one night in a horrible thunderstorm he was struck by lightning and almost died. Right after he was struck he was sure he was going to not only die but forever be lost into eternal damnation. He promised God that if God would let him live he would forever give his life to serve God as a dominican Monk. Luther was sure God healed him so he honored God with his promise the rest of his life. Luther's friends mocked him and tried to shame him in continuing law school yet he would not change his mind. His Father was also very up set but he did not care and felt a great calling on his life to become a Monk. Later on Luther attended seminary and became a University professor at one of the best schools of theology in what later became Germany. The name of the University was Wittenburg University and Luther eventually became head of the department of theology.
Luther was a German Catholic priest and professor that concluded the Holy Roman Empire, Catholic Church and Pope, were ignoring large portions of the Pauline Epistles in its ministry to the Saints within the Body of Christ. He also became a seminal figure of the Protestant Reformation which resulted in a great schism that broke the Body of Christ into two major parts, Catholicism and Protestantism.(1)He felt it was wrong for the church to claim things were in the bible that were not there for financial gain. The church at the time was selling indulgences, theologian's name for tickets to heaven. Luther disputed their claim that scripture taught that freedom from God's punishment for sin could be purchased with money.
These indulgence salesmen like Johann Tetzel were given special Papal authority to claim on official looking church stationary and award letters that certain individuals already dead would enter heaven if the right price were paid for these indulgences. Another type of indulgence ticket to heaven was for people already alive which gave them a license to sin as long as they paid the right price. These tickets were sold for people already dead, usually bought by relatives and those still alive as a sort of license to sin all they want. There was another type of ticket sold by these Bishops which was a ticket someone would by for a relative they could not witness to that they had unsuccessfully led them to Christ. The fees on these tickets to heaven were always negotiable according to how much money that particular individual could pay and afford. Luther became upset when those in his own congregation claimed they did not have to repent for certain sins because they had already purchased one of these indulgences from the Pope.  Luther felt this was standing in the way of his Ministry to the Saints.
Luther concluded, rightly so, that the selling of these tickets to heaven were an impediment to the ministering to the saints the gospel of Jesus Christ. As a Professor in the school of theology Luther assumed these were mistaken interpretations of scripture from higher up and took his duty seriously to convince the Pope their wayward ways. In the year 1517 at the age of 34 Luther after numerous times of unsuccessful petitions with Church burocracy constantly ignoring the main issues Luther decided to bring the issue to a public forum himself by posting a list of his Ninety-five-Theses on the Castle Church door Wittenburg University he was the professor at. This was the custom at the time when openly debating important topics in theology. He was not planning on stirring things up but only fixing a problem within the Catholic Church in the ministering to the Saints. So on the same day he posted these Ninety-Five-Theses Luther sent copies recording the comments of the day's theological discussions to the Archbishop Albert of Mainz & Magdeburg, Bishop of Brandenburg both Luther's church superiors whom had allowed all the selling of the indulgences in that land.
On the eve of All Saint's Day, October 31, 1517, Luther posted the ninety-five theses, which he had composed in Latin, on the door of the Castle Church of Wittenberg,at the University campus' church, according to the Theology Department's campus tradition.
[4]
Simultaneously on the same day, Luther sent hand-written copies with commentary and secretarial documentation to Archbishop Albert of Mainz & Magdeburg, whom were responsible for the practice of the indulgence sales in that area of Germany, also copies to the Bishop of Brandenburg, Luther's direct superior. Within weeks, copies of the Ninety-Five-Theses spread throughout Germany because around the same time was the invention of the printing press so within a short two months had spread throughout all Europe.
[5]
[6]
 Later in Luther's life he had commented that he had never planned to stir things up as so and only had hoped to encourage reform higher up. He had never had thought it would spread all over Europe at such an accelerated pace that appeared so seemingly out of control. It was as if the movement had taken on a life of its own. By January,1518, only 2 months later, Christoph von Scheurl and other Luther friends had translated T
he
Ninety-Five Theses
from Latin into German, printed, and widely copied them, making the controversy one of the first in history to be aided by the newly invented Gutenberg printing press.
[7]
Before the massive reformation movement Luther was a catalyst to there was only one church, and that church had until then been called the Catholic church. This caused a great schism in the Body of Christ. These people who followed and believed the same things Luther believed eventually were called the Luther followers and so on until they became the Lutherans. This was the beginning of the Lutheran religion. They are still known today as Lutherans and are throughout the world.
This church built by Jesus Christ, the Son of God, had become so powerful by 300 A.D. that even the Roman Emperor in Rome become a Christian. This Roman Emperor consolidated the church doctrine, after calling a meeting of theologians to define heresy, into one church that became named Catholicism,later called the Holy Roman Empire by historians. This name was also called the Holy Roman Empire. This one church for 1200 years became very powerful and even decided who would become kings and princes and who would rule the countries all over Europe. Catholicism even had the power to remove kings also. This is all because Christianity was so successful in Europe and would support the Church now no matter what, even over the king. Eventually the kings figured if they made payment to the church which came from taxes the Pope would select them to be the kings. This corrupt relationship continued for 1200 years.
This corrupt relationship started changing as people were starting to demand the bible be translated into the vernacular (their own language). But the Catholic Church and Roman Bishops kept claiming that Latin was the holy language and any bible translated into any other language was not from God. Besides they would say "all Bishops are required to learn the holy language of Latin before they are given their Parishes to preach at. And so this was the line of thought for over a 1,000 years all over Europe. So all over Europe the only bibles were in Latin and the sermons and prayers were in Latin. Many times they were translated but usually something was lost in the translation process.
But God's plan was not man's plan and soon Martin Luther was encouraged by the great reformation uprising and by the year (Place year here) Luther was translating the bible into the German language. Eventually the entire bible was translated into German and Luther became a great hero of the German people.
Luther's example was soon followed by John Calvin in France in which Calvin translated the bible into the French language. every step of the way the Pope and Catholic Bishops attempted to capture Luther or Calvin and try them as heretics and institute the punishment of a heretic which was usually a death sentence similar of Joan de Ark, burned at the stake. And there were other horrible deaths for these reformers usually under the guise of being called a purification ritual usually with an attempt to get the heretic (sic) to recant their beliefs similar to what was attempted of Mel Gibson in the movie
Luther never reached the age of 63 and wrote many commentaries on different books of the bible but the one commentary that reflects his theology espoused most would be his commentary on the book of Galatians and the Pauline Epistles. It was his study on Galatians and the Pauline Epistles that caused him to realize that contrary to common Catholic thought salvation was based upon pure grace, no works required.
all the Reformers seemed to come out around the same time, within just years of Luther, and a general term was used to describe them. At first they were called protestors to the Catholic church but eventually they were called protestants. And to this day they are all called protestants.
Luther's Main Theology
Luther taught salvation could not be earned with good deeds or bought as a ticket to Heaven (indulgence) but could be received only as a free gift of God's grace through faith in Jesus Christ as redeemer from sin, Romans 10:6-11. Luther's theology challenged not only Papal authority but the huge order of Bishops and others installed by the Pope of the Roman Catholic Church by teaching that the Bible is the only source of divinely revealed knowledge.
[2]
This teaching, a common cry of the reformers, later came to be known in a short latin term called Sola-
Scriptura.

CA
nd opposed sacerdotalism by considering all baptized Christians to be a holy priesthood.
[3]
Those who identify with Luther's teachings are called Lutherans
claimed this could be done in different ways. He confronted indulgence salesman Johann Tetzel with his Ninety-Five Theses in 1517. Hism ors refusal to retract all of his writings at the demand of Pope Leo X in 1520 and the Holy Roman Emperor Charles V at the Diet of Worms in 1521 resulted in his excommunication by the pope and condemnation as an outlaw by the Emperor.
Martin Luther was born in 1483, 9 years before Columbus sailed the ocean blue, died in the year 1546. Everyone k nows when Columbus sailed to discover North america. This is how you remember the dates by this short ryme.
Columbus sailed the ocean blue to discover North America. Nine years prior it was God's desire that Luther be layed in a cradle. A little Waa here a little waa there baby Luther was full of the colic. A lawyer said the father, no said the Mother only God knows whether he is able.
Plass, Ewald M. "Monasticism," in What Luther Says: An Anthology. St. Louis: Concordia Publishing House, 1959, 2:964