Posted on October 6, 2003 by RobertLeeRE
Get Back up And Get In the Race, Proverbs 24:16

The Race Won By Staying In the Race
The Race of Endurance 
  A friend of mine once stated he had a dream in which he was running from his past and couldn't get away from it.
  In the Race to Christ we are all are running from our past as sinners.  I am, you are if you are saved, and, so were all the great men & women of the bible.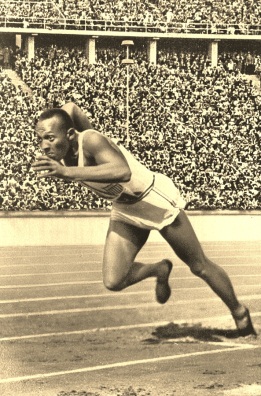 Some people have sins in a secret past no one knows about and some have sins on the outside where everyone can see, but all people have sin, no one is righteous, not one more then another.
 Many Christians have a past they're running away from, and God says "That is okay."  In the Race to Christ it is okay to run from our former selves. That is okay God says but we MUST repent of our former selves and ask Jesus into our hearts asking God to forgive us according to Romans 10:9-10. Once we do this we become Justified in the Father's eyes for all past present and future sins for accepting God's only begotten Son Jesus Christ sent to the cross for our sins. It is that easy to get saved. Salvation is by faith and faith only. This is just the beginning of the race. Now the race toward God has just begun.  
 Jesse Owens Image Public Domain Compliments National Archives 
  Moses did this after he killed the Egyptian for beating a former slave, he ran and ran until he met God, Exodus 2:11-12,3:1-6.
  In the Race to Christ -
Moses was counted righteous for it and God forgot his sin forever and ever. For in God's eyes all sin is the same.
 Former killers like Moses  ( manslaughter ) or an adulterer like the Samaritan woman at the well whom that had five husbands, and, living with but not married to the sixth  man, John 4:1-26, these sins are the same as a child lying to his parents that breaks the smallest minute point of the law,
all people sin
and have broken the law
needing salvation
after repentance
by pure grace
, Romans 3:10, and
our righteous acts are like filthy rags
, Isaiah 64:6, and
through one man many will be made righteous
, Romans 5:19, this one man is also Jesus Christ and God in the flesh, the word, John 3:16, John 1:1-18, and the righteous shall be righteous
not by church rules, regulations
, but the pure grace of faith, Galatians 3:11, and they overcome sin by the hearing & reading of the word of God for this is where faith comes from, Romans 10:17, for faith is how we are saved, Romans 10:9, but faith is also built by prayer, Ephesians 3:16-17, 1:18-19,
and getting up after falling down, Proverbs 24:16
,
for this race of running to God away from sin never ends

until

the day we die or the day we are raptured, Ecc 9:11, Acts 20:24, 1st Co 9:24, Galatians 2:2;5:7, 2nd Tim 4:7, Hebrews 12:1.
Most of the time if not always we must struggle to reach our destination, and that is okay with God.
 1st Corinthians 9:24-27
States the Super Apostle Paul, translated in the NIV, "Do you not know that in a race, all the runners run, but only one gets the prize? Run in such a way as to get the prize. Everyone who competes in the games goes into strict training. They do it to get a crown that will not last; but we do it to get a crown that will last forever. Therefore I do not run like a man running aimlessly; I do not fight like a man beating the air. No, I beat my body and make it my slave so that after I have preached to others, I myself will not be disqualified for the prize."
The prize Paul is speaking of is not of salvation for there are many crowns and we will all toss them at the feet of Christ the Lamb of God (scripture quote here) but Paul is speaking of a particular crown rewarded to those who win the race.
Revelation 4:10
the 24 elders fall down before him who sits on the throne, and worship him who lives forever and ever. They lay their crowns before the thrones and say:
"You are worthy our Lord and God,
to receive glory, honor and power,
for you created all things,
and by your will they were created and have their being."
When we look at the scripture above we see that crowns are something that can be taken off so they are not salvation, rather they are special awards we earn during the Sanctification process. Crowns are an award we receive for accomplishing and overcoming certain things when we crucify the flesh to beat it into submission. Lets see if there is any more evidence in scripture of what crowns are. so without going into too many details on this which would sidetrack this teaching that when Paul is speaking of crowns he is talking of awards we earn in the Sanctification process in our lives. I will cover the any crowns we can obtain in another sermon.
Hebrews 12:1
Paul also says in Hebrews, "Therefore since we are
surrounded by a
 great cloud of witnesses, let us throw off everything that hinders and the sin that so easily entangles, and let us run with perseverance the race marked out for us. let us fix our eyes on Jesus, the author and perfecter of our faith, who for the joy set before him, endured the cross, scorning its shame, and sat down at the right hand throne of God. Consider him who endured such opposition fro sinful men, so that you will not grow weary and lose heart.
when there is something that entangles you, you really cant run, unless you put it off your legs and be free then you can go ahead. Among the witnesses, there are those cheering at us to see us going, and those who are waiting for our fall so we need to fight. we live a sinful life, because we are weak, but we have to strive and fight against the body desires to walk in the righteousness.  For if we say we are not sinners we are liars and this is even true after we are saved fior the Sanctification process has just begun.
Paul said in 2nd Timothy 4:7, "i have fought the fine fight. i have run the course to the finish i have observed faith, from this time on, there is reserved for me the crown of righteousness. we are in a race, and not all runners are winners. lets fight,not fighting the body and fresh, but in spirit.
  Have you

stayed in the race

or have you fallen

and not

gotten up yet?

How do you overcome sin when you fall?

Or do you feel you do not fall?

When Peter denied Christ two times but not yet the 3rd time, thus hadn't repented yet, hadn't turned yet, do you believe he would have gone to heaven or hell and what is your scriptural support for this?

What have been your greatest struggles?

Some Christians think they never fall once they are saved.

Is this scriptural according to the Pauline Epistles? Why or why not?
 The Apostle Paul, the Apostle of whom all church doctrine Christ spoke through spoke of these same things in Romans 7:14-20.
Romans 7:14-20 NIV
 14 We know that the law is spiritual; but I am unspiritual, sold as a slave to sin. 15
I do not understand what I do. For what I want to do I do not do, but what I hate to do.
16 And if I do what I do not want to do, I agree that the law is good. 17 As it is, it is no longer I myself who do it, but it is the sin nature in me. 18 I know that nothing good lives in me, that is, in my sinful nature.
For I have the desire to do what is good, but I cannot carry it out. 19 for what I do is not the good I want to do;no, the evil I do not want to do—this I keep on doing. 20 Now if I do what I do not want to do, it is no longer I who do it, but it is sin living in me that does it.
 We see here in Romans 7:14-20 the Apostle Paul struggling with the same thing millions upon millions of God fearing Pastors and Christians all over the world struggle with, the dual natures within us all. For where before we were saved we had inside us only one nature for sin ruled our hearts and souls 100%, but when we became born again we became aware of the law and sin increased causing our flesh to slowly die and be crucified, for we crucify the flesh, we hate the flesh, we struggle with the duel nature that will not be solved until the 2nd Coming of Christ, "For the perishable will be clothed with the imperishable, and the mortal with immortality, then the saying is true: 'Death is swallowed up in victory, ' " 1st Corinthians 15:54.
Justification
 When we are justified that is when we are saved. We are saved by faith when we ask God to forgive us for our sins asking God in sincerity and humbleness to forgive us sending Jesus into our hearts and to save us.
We are saved by God's Son Jesus Christ, the perfect Lamb sacrifice for the sin of the world. If we are saved that means we cannot be unsaved.
For example when the Apostle Peter sinned three times he was still justified and still saved, only needing forgiveness but still saved. if Peter had died of a sudden massive heart attack upon hearing the rooster crow as prophesied by Jesus, not having a chance to repent, would still go to Heaven even though his soul was soiled from sin. We are not saved by works. we do not justify ourselves, rather God justifies us when we say the prayer of salvation for all past sins and all future sins. we are saved by our Savior Jesus Christ and we are to follow Christ the rest of our lives the best we can. We do not go on at that point to live a sinless life but we are to do the best we can, read our bibles, assemble with others that are saved, repent and pray regularly. But when we are saved we are saved for all past, present and future sins. This is the proper doctrine of Justification as scripture teaches.
When we get saved it is at that point that God writes our name in the Book of Life. It is at that point we are JUSTIFIED. It is at that point we are saved. We do not work our way to heaven by following the law, any mosaic law. we are justified by faith and faith only. Salvation is by faith. Our works are like filthy rags to God for we are incapable of working our way to heaven. The purpose of the Law was to highlight the problem of man's incapability to actually follow the law. The purpose of the law is to show we cannot follow the law and need a solution. That solution was a gift from God that if we humble ourselves and ask God for help, to save and rescue us, God would do it if we recognized his Son Jesus Christ as the perfect sacrifice for our sins. God did exactly that.
John 3:16 NIV
   For God so loved the world that he gave his one and only Son, (Or his only begotten Son in KJV), that whoever believes in him shall not perish but have everlasting life. For God did not send his Son into the world to condemn the world, but to save the world through him. 18 Whoever believes in him is not condemned, but whoever does not believe stands condemned already because he has not believed in the name of God's one and only Son.
 Some Christians think they never fall once they are saved. Pastors from old have taught them that they can backslide only to lose their salvation which is incorrect teaching.  Others

 point at their brothers and sisters of different denominations accusing them of not being saved,

not following their rules.

Is this accusing from God or Satan? Who is the Accuser? If God's people are accusers who are they helping? Have you ever met someone like this? They spend all their effort accusing their brothers and sisters and no effort witnessing to the lost. God says we are to pray, repent and get back in the race of pure grace and forgiveness and the following of Him. We are to get up, overcome sin letting Holy regeneration take place becoming metamorphosed into the righteousness God intends for each and every one of us. We are to become new creatures. What are your views on regeneration with scriptural support ?
Sanctification
But the race has just begun. Now we must practice the act of Holiness, or the walk of Holiness. How do we be Holy if we are not Holy nor have ever been? God says he will send a helper he also calls his Comforter and Teacher. The closer thing we know to this in our world is like our Mothers when we were young. She would comfort us and help us when we fell down and scraped our knee. She would kiss our injuries and comfort us. She would also scold us or spank us when need be or report to the father when we were needing correction because our walk was not Holy enough. God called this comforter the Holy Spirit in scripture and we were to wait until the Holy Spirit came to us upon being saved before we were to go out and Minister to people. According to scripture we still sin after we are saved and will continue our entire lives although we will sin less and less as though we are in a race to God. Are you in a race into the arms of God?
The Coming City built by Christ
We will be embraced by God when we get to heaven. In fact we will be embraced by a loving God so much that a time will come when we will live on earth for a thousand years in which Christ will be the King of all the earth,all creation for that matter, called the King of Kings. This is a literal reign of Christ when all of God's people will get a 2nd chance to have families and lots of babies. Scripture records and tells of this special tie in mankind's history in Revelation 20:1 all the way to Revelation 21:27. During this period there will be a great city built by Christ that hovers just above the Middle East, NEW JERUSALEM, Revelation 21:10-21:27, and in this giant city shaped like a giant mountain will dwell Jesus Christ ruling the earth as the King of Kings. The length and width and height of this city will be 1400 miles, shaped like a mountain, Revelation 21:10. This is in very much contrast to the City of Man also called Babylon the great, known today to be America and if you do not know this i proclaim to you today that this is America, Revelation 18:1-24. There will be very little sin on the earth because Satan and all his dominions will be chained up in the bottomless pit till the end of the 1,000 year reign. God also calls this the Day of Rest of all of God's followers. Life will flourish and the earth will flourish and grow things like never seen since the Garden of Eden. Fruit trees will just grow wild everywhere as will vegetables. Very little labor will be required to get these things to grow. In fact so little labor will be required that business of farming will be pretty much ended. The nutrients these foods will have will be much greater than ever seen since the leaving of the Garden of Eden. Once again men and women will not die of old age like today around seventy years, rather they will live 1,000 years or more. This special time, which is soon coming by the way, is a reward to God's followers to live as God intended dwelling as God attended among heavenly beings. The Lion will lay with the lamb and it appears people will be either part or full vegetarian during this period. How do we know this? We know because scripture records  that the Lion will lay with the Lamb and neither will be eaten.This means man will not eat meat. But it is possible we might eat fish. There will be no death, no colds and no disease. What a joyous time this will be.
Back to Home-Page Sermon Index